Submitted by Ada Alden who is a grateful grandmother
My granddaughter, Abigail Mahony participated in the Annual Kindest Kansas Citian Contest in April. Students are asked to write about someone they have observed being kind. Abigail won the competition at her school. She read her essay during an all school ceremony during which time the students heard why and who Abigail had observed being kind to her brother, our grandson. Each year Synergy Services celebrates the power of kindness to create safer and stronger families and communities by recognizing community leaders alongside individuals nominated by students from throughout the metro area.
Abigail wrote this essay and was selected as the Sunset Ridge Kindest Kansas Citian award winner. She read her essay in front of all the students while standing next to beaming Pete.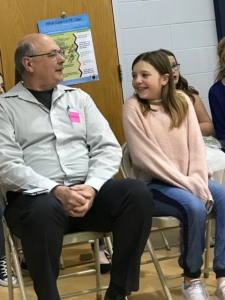 To me, Pete is my Kindest Kansas Citian because he helps my brother Jack every week. He helps my brother not think about the pain of treatment. Pete also helps Jack work through the stress of Jack's other concerns. My brother helped Pete get through his stress when he got cancer. They are a great match. I nominate Pete because he is so nice to me. He interacts with me and asks how I am doing every week. When my mom texted him and told him I had nominated him as my Kindest Kansas Citian, he replied, "I have met a lot of people much kinder than me." But there's more. He has helped Jack for five years and is not just a nurse for my brother, but a part of our family.
https://www.scatteringkindness.com/site/wp-content/uploads/2019/05/ada-award-4.jpg
1783
3023
Karen Kitchel
https://www.scatteringkindness.com/site/wp-content/uploads/2018/10/logo2.png
Karen Kitchel
2019-05-15 08:18:36
2019-05-15 08:22:16
Celebrating The Power Of Kindness